...
so why not head over and read all about me. Me. ME!!
Go on, you know you want to! *g* And if you need any more incentive* there's a signed copy of
The Sweet Scent of Blood
, or
The Cold Kiss of Death
up for grabs for two lucky commentators!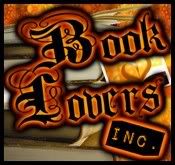 * Okay, so I'm not that interesting, I know this, but hey, there's *Free Books!*, that's got to be worth something, hasn't it? And you can find out about how my muse copes with my creative pants and what my crit partner,
Jaye Wells
has to do with it all! Plus there's the Book Lovers: they've got lots more interviews and giveaways lined up, with more exciting folk that me, so you'd be missing out if you don't go ... just sayin' :-)